With Thanksgiving on the horizon, the hothouse staff is thinking about food. We asked our staff to send us their favorite literary (or otherwise) depictions of food. Read below for some of the most mouthwateringly salient meals to grace our pages and screens.
Redwall by Brian Jacques
Stephanie Pickrell, Managing & Website Co-Editor
When I read the Redwall series as a child, one of the things that simultaneously delighted and infuriated me were all the feast descriptions. The story itself might have been about woodland creatures and epic battles between good and evil, but every other chapter there would be some sort of meal described in luxurious detail—dandelion soup and acorn bread and pastries stuffed with mushrooms. As a reader, I was delighted, but as a growing middle schooler, the feasts pointed out a hungry ache in my stomach that no school lunch was ever able to fill. Even now, I still wish I could taste the comfort of potato-beetroot soup with cream, served in an hollowed acorn shell.
A Room of One's Own by Virginia Woolf
Megan Snopik, Website Co-Editor
"One cannot think well, love well, sleep well, if one has not dined well."
In Woolf's famed A Room of One's Own, she tells a story of two meals. At Cambridge, the men's college serve soles in "the whitest cream," partridges "with all their retinue of sauces and salads," potatoes "thin as coins but not so hard," and a "confection which rose all sugar from the waves" for dessert. Whereas the women's college serves "plain gravy soup," stringy beef "with its attendant greens and potatoes—a homely trinity," prunes "exuding a fluid such as might run in misers' veins who have denied themselves wine and warmth for eighty years and yet not given to the poor." The contrast between these two meals relates to the privileging of men in institutions of higher educations over women. The descriptors Woolf uses transports the reader to the site of these meals, making them thirst for gender equality.
Studio Ghibli
Jack Gross, Website Staff
When it comes to food, it doesn't get much better than Studio Ghibli and their overwhelmingly pleasant and palatable depiction of comfort dishes. While many examples come to mind, the image of bacon and eggs cooking on the iron skillet from Howl's Moving Castle constantly lingers in the back of my mind anytime I crave breakfast food and often is enough to spring me into action. When I cook breakfast, I must reconcile with my disappointment that the fire isn't smiling back at me, that the egg yolk isn't a perfect unbroken yellow circle, and that the bacon isn't sizzling in a perfectly symmetrical and even fashion. I blame Howl's Moving Castle for my daily morning dose of disappointment, but also for my undying pursuit for the perfect breakfast.
Austen Schreib, Marketing Team
One of my favorite depictions of food is from the Studio Ghibli film, Spirited Away. While there are many scenes featuring food in this movie, my favorite is when Haku gives Chihiro a simple rice ball. Chihiro cries as she eats the rice ball and Haku comforts her. I think this scene encapsulates how food can act as a symbol of love between individuals. Even though the food itself may not be decadent, the care behind its offering is powerful.
The Aristocats
Celeste Hoover, Website Staff
A classic comfort movie and a delicious meal, what better treat is there than Crème de la Crème à la Edgar? I have fond childhood memories of watching this scene from the film, The Aristocats, and attempting to recreate Edgar's delicious milk and cracker concoction. Unfortunately, my kindergarten self quickly realized it is perhaps better left on the screen. Many soggy crackers were thrown in the garbage that day. The movie remains an excellent choice, however—just maybe steer clear of the Crème.
Fresh Guacamole
Najeeba Shahim, Marketing Staff
The Oscar-nominated short film Fresh Guacamole by Pes is by far one of my favorite cinematic depictions of food. Claymation is a satisfying medium in and of itself, but something about the way ordinary objects are transformed into delicious guacamole heightens the experience and reminds me of my own childhood and the times I've spent "pretend" cooking with whatever I could find. Every time I watch this clip, I always want to restart it find any details I may have missed, and just experience the whole film all over again.
The Importance of Being Earnest
Clover Boxwood, Zine Board
One of my favorite depictions of food isn't from a description so vivid I could feel it, smell it, or nearly taste it on my tongue. No, I read The Importance of Being Earnest for the first time a few months ago, and in it, one of Oscar Wilde's characters, Algernon, is often eating at silly, inopportune times. When questioned by his friend Jack why he's sitting there, eating muffins, when he's in such deep trouble, he says this: "Well, I can't eat muffins in an agitated manner […] One should always eat muffins quite calmly. It is the only way to eat them." Which is such a blunt, comedic, true line that now I'm going to remember it every time I eat muffins.
Ratatouille
Eun Jae Kim, Fiction Board
As an extremely picky child who detested all vegetables, a beautiful plate of what seemed to be varying colors of pepperoni drenched in the sauce was a dream come true for my younger self. I dreamt that someday, I, too, would go to a fancy restaurant with small portions and cross chefs and taste this delectable dish myself. I still remember the horror and shock I felt when, years later, I realized that it was a dish made entirely of vegetables– namely, eggplant, tomatoes, squash, and zucchini, which were some of my least favorite foods on earth. Now, as I've somewhat developed my palate and become more open-minded with food, I once again embrace that childhood dream of trying this dish.
Malvika Mahendhravarman, Marketing Staff
Despite having no knowledge of French cuisine, when I was six years old, I wanted to taste the symphony of flavors in a ratatouille after watching the now-beloved animated classic. The deep red, autumnal orange, and pale yellow discs spiraled beautifully, and you could almost smell the blend of earthy herbs coming from the piping steam. The movie insightfully comments on how food can produce a visceral memory and transport you back to childhood, where tears only lasted a day and could be solved with a mother's warmth. For Anton Ego, the deep nostalgia that stems from the remembrance of a homemade meal made by an almost forgotten loved one is a powerful metaphor, for even as time hardens us, we are still children at heart.
"The Patato Eaters" Vincent Van Gogh
Medha Anoo, Website Staff & Poetry Board
When I look at "The Potato Eaters" by Vincent van Gogh, I feel like the only other person in the world. It reminds me of when I was soaked through with water—cold, miserable, starving—and someone poured me a cup of hot coffee. Hundreds of years ago on a different continent than mine, the people in the painting came to the dinner table weary and hungry and were soothed by hot food and drink, and as a child in middle of the monsoon season in India, so was I.
"Tutti Frutti" by Little Richard
Charlie Sharpe, Zine Board
Man, the swing of Little Richard's voice in "Tutti Frutti" reminds me of two of my favorite things: the people in my life and the food. Be it a Friendsgiving meal, a potluck for D&D, or a cook-in date, the warm noise we make in the kitchen with the dropped pots and loud recipe re-readings is its own funky little song. We even have our little "a wop bop a loo bop a lop bom bom" when we all collapse into our chairs. I can't help but get giddy when someone turns on the music and gets out a pan.
Spongebob Squarepants
Andrew Martinez, Poetry Board
I kind of love the way that chum is talked about and depicted in Spongebob? There's something about the way that everyone hates it, the way that it looks like chili from Wienerschnitzel, the way that I imagine it tastes like, a fishy-sloppy joe. I just really wanna taste it. I can't say I've ever really wanted a Krabby Patty; catch me at the Chum Bucket. Honestly, people are probably just cowards and afraid to admit that it's good – not me though. Chum<3
Richard III by William Shakespeare
Gerardo Garcia, Website Staff
RICHARD
Than my Lord Hastings no man might be bolder.
His Lordship knows me well and loves me well.—
My lord of Ely, when I was last in Holborn
I saw good strawberries in your garden there;
I do beseech you, send for some of them.
ELY
Marry and will, my lord, with all my heart.
In Act 3, scene 4 of Richard III, a council of lords meet to determine who will be coronated following the recent death of their previous King, Edward V (nothing to see here, folks). Buckingham skews the conversation in favor of the Duke of Gloucester, who enters right on queue. Conspiracy, soliloquies, and unsuspected murder have worked up quite the appetite for Richard as he eagerly orders some strawberries for the occasion—Hastings, however, spoils the meal soon after. Demanding that Hastings be beheaded for disloyalty, Richard swears he will not dine until he sees the same; without hesitation, his cronies lead Hastings to the block, as "the Duke would be at dinner." Preceding one of its darkest moments, the strawberry is one of the brightest images in the play, illustrating Richard's craving for them as absolutely bizarre and unsettling (I was lucky enough to play Richard during this summer's Shakespeare at Winedale program, and found nothing more menacing than eating a juicy strawberry after the reveal of Hastings' head on a platter).
The Lord of the Rings by J. R. Tolkien
Harmony Moura Burk, Poetry Board & Website Staff
Po-ta-toes. Boil 'em, mash 'em, stick 'em in a stew. Amidst all the adventuring, magic, and dangerous hikes, the Lord of the Rings movies are filled to the brim with depictions of food and warmth. From the Hobbits' multiple meals a day (second breakfast sounds wonderful) to the bits of bread being rationed out along their journey, food and the act of eating together create a sense of community and bonding in otherwise terrifying circumstances. Having grown up with Tolkein's books and the movies, I can't help but find comfort in watching the meals and food-related shenanigans embedded throughout the plot— especially if I have a nice, warm plate of my own.
Little Bear
Turi Sioson, Fiction Board
As any pre-pubescent kid who wasn't allergic to apples, I loved applesauce. I would dip carrots into their cinnamon-flavored cups to make eating the vegetable more exciting; I would eat two or three in one sitting. But when I eat applesauce now, it's hard not to think of one of my favorite episodes of Little Bear, my favorite childhood show. In the episode "Applesauce," Little Bear and his human friend Emily meet a Toad while apple-picking, and when they take him back to Emily's house, he repeats, "Rapplesauce, rapplesauce!" in a plea to eat some of Emily's grandmother's homemade applesauce. The ridiculous toad's voice itched some kind of scratch in my childhood brain, and for years following, I would say, "Rapplesauce, rapplesauce!" anytime I ate the snack. Though—to my father's dismay—I've outgrown that little quirk by now, there's still that lingering affection for applesauce that goes beyond a simple enjoyment of the taste.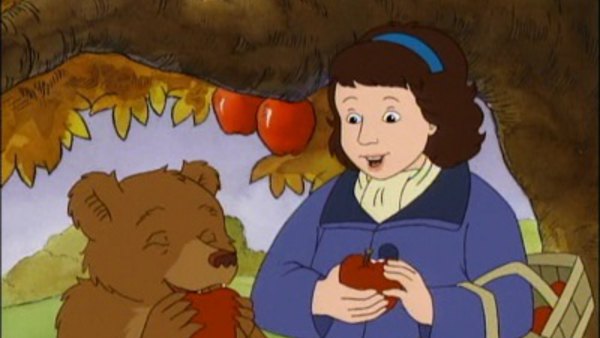 Sonnet 75 by William Shakespeare
Kara Hildebrand, Website Staff
So are you to my thoughts as food to life,
Or as sweet-season'd showers are to the ground.
What I love about these lines is how they acknowledge food as a means to sustain life, yet we are able to attach our own meaning to it. How we choose to prepare food, the life, and the culture behind it carries a million things that only a warm meal can convey. Particular people, moments, feelings can be as life-sustaining as the flavors that remind us of them.
To the Lighthouse by Virginia Woolf
Jasmin Nassar, Fiction Board
Nothing has brought me comfort and peace more than Virginia Woolf's writing. More specifically, her novel To the Lighthouse has one of my favorite literary depictions of food because of how warm, tender, and triumphant it is. The "savory brown and yellow meats" with the "bay leaves and its wine" make up a French beef stew that Mrs. Ramsay's chef took three nights to carefully prepare. Woolf's famous streams of consciousness and elaborate emotional discord are interrupted by this wholesome depiction of a beef stew, a sort of triumph in the midst of the emotional conflict taking place at Mrs. Ramsay's dinner table.